Mid-Century Goals
Exclusive Home Tour: Mid-Century Goals
Just when you thought your love of Mid-Century couldn't get any stronger, this house comes along.
Transcribed directly from Domino Magazine's original article.
By Blake Miller // Photography by Meghan Bob Photography // Design by Deirdre Doherty Interiors
Cari and Matt Field assumed they'd never find their dream home. The criteria: it had to be tucked among towering pine trees but less than 20 minutes from Hollywood. So when they first saw the 2,500 square-foot circa-1956 Mid-Century Modern fixer upper in Glendale, the couple didn't hesitate to make an offer.
"We've always been torn between wanting to live in a big city and in nature," says Cari. "Behind our home is 250 acres of wildlife, hiking, nature. But we are 15 minutes from Silver Lake, Los Feliz, and Hollywood. The first time we brought the kids to see it, we were outside talking to a friend, and we looked over and both of our kids had laid down in the driveway and were just gazing at the sky and pine trees. That's what we wanted for them."
After tweaking the layout and hiring designer Deirdre Doherty of Deirdre Doherty Interiors to bring their vision for a contemporary take on Mid-Century Modern to fruition, the family of four are now smitten with the result. "The house looks likes us and incorporates personal items, art, and ideals," says Cari, "but in a much more beautiful way than we could have ever pulled off on our own."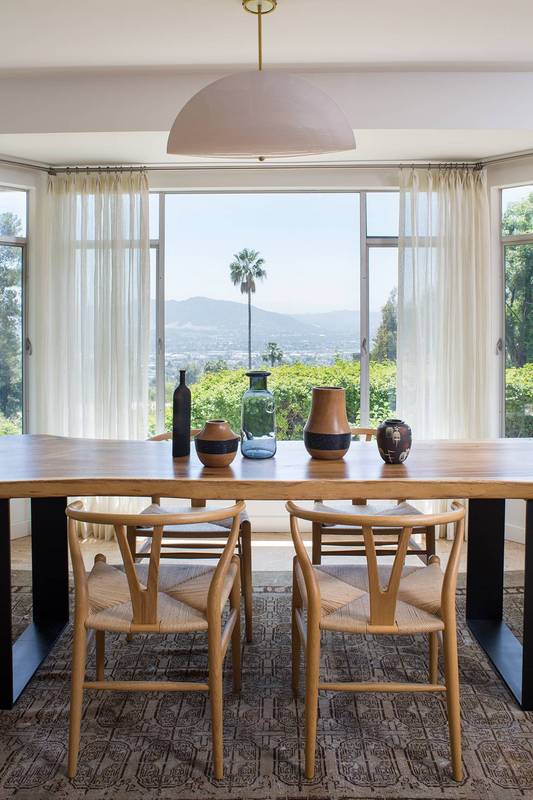 What was your vision for the home's design?
Our starting vision was to keep the integrity of the Mid-Century vibe the client loves, keeping the original lava rock fireplace and slate floors, taking advantage of the views and making it an open concept for family living with a kitchen equipped for a chef.
Where did you begin with this project?
The starting point was the space plan of the main kitchen and living and dining areas. They were all small, separated rooms and didn't lend themselves to entertaining or family life. Once we got the green light to remove most of the walls separating them, we focused on materials: We brought in walnut cabinets, cork floors, and dark-honed countertops. That was the beginning of the rest of the earthy and clean palette.
What was the biggest design challenge?
The kitchen layout was a challenge. The owner loves to cook and entertain, and the standard dining room and kitchen layout was not giving them a big enough cooking space. I suggested tucking the dining table into the bay window alcove with full access of the views. Once we did that, the rest of the layout fell easily into place. As far as material challenges, the little girl's bathroom had amazing vintage gold-flecked tile, and we wanted to save the integrity of the bathroom so we sourced some options out of the norm and ended up with a great terrazzo tile floor that blends beautifully.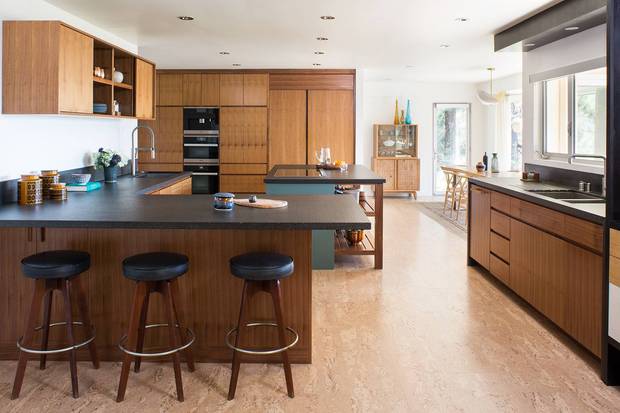 Did you use anything that you consider to be any of your signature design details?
I am a sucker for amazing hardware and lighting. They truly are the jewelry of any home—the finishing touches. I sourced a pendant by lighting designer Jason Koharik, whose work I love, for over the dining table. In the kitchen, I found walnut-cut in handles for the bar area, which really are on era for Mid-Century. For the master bathroom, the long vanity is punched up a bit with oversize brass handles.
What is one design element you used in this home that readers should try?
One of my favorite ways to make a space feel special is to mix patterns and textures. As long as you pay attention to the scale of the patterns, it really can work. The master bedroom is a great example of this with the large-scale flower headboard, small triangles on the drapery, and an abstract Moroccan rug. Take a little risk! I also like to say "decorate like you dress"—not everything has to be perfectly coordinated to look well designed or aesthetically pleasing.
What do you love most about this home and its design?
This house is really special and nestled in such a wonderfully quiet area of Los Angeles. The kitchen is truly the heart of the home. I am naturally drawn to sit down and hang out in the home not only because of its design but also its amazing views of LA.
What was your vision for the home?
I wanted to pull the nature from the outside in while returning the house to its Mid-Century roots. The home is not an architectural wonder by any means, but it had a lot of interesting elements that we wanted to keep and play up. You can never go wrong with classic design. Deirdre is amazing because she knows so much about construction, making a house comfortable, timeless design while knowing what's on trend but not being too trendy, as well as letting our style, wants, and needs work with the house.
Did you have any inspiration for the design?
We wanted the house to be Mid-Century. Many designers of that era were influenced by Japanese and Asian cultures so everything in the home has a nod towards that. The Beta Fish wallpaper on the ceiling in our daughter's room, the Hokusai "Great Wave"-inspired wallpaper in our son's bathroom, even the clean, timeless walnut cabinets in the kitchen are all inspired by that aesthetic.
What is your favorite design aspect of the home?
The kitchen. It's a showstopper, and it's where we spend 90 percent of our time. I love that our dining room is in an unexpected place and looks outside and I love the way the kitchen table reflects the huge pine trees just outside. It almost looks like a pine tree fell down, and we decided to just use it as a table. Since no one walks in front of our house, we can open it all up and it feels like a tree-house with the line between inside and outside almost nonexistent.
What do most people say when they see your home?
"This location is incredible." "Who knew something like this could exist in Los Angeles!"  And my favorite: "Would you ever sell it, for any price?" To which we say, no way.